McMicrodose Premium selected truffles
Quantity 20 grams
2 x 10 grams packed.
Microdosing is the practice of regularly taking super small amounts of psychedelics, such as natural psilocybin. The purpose of this practice is to experience various benefits while in a sub-perceptual (imperceptible) level of intoxication.
HOW DOES PSILOCYBINE MICRODOSING FEEL?
1-2 hours after ingesting a microdose of psilocybin (truffles or mushrooms), most users may notice an increase in focus, energy and a more fulfilled, meaningful attitude to life. Most who microdose explain this feeling as - "a great day where your mood is right! As if you had slept, exercised and eaten enough ". Some also describe other personal changes such as increased empathy or similar focus / food related feelings. Most user reports also state that microdosing psilocybin allows them to be more present in the moment.
HOW OFTEN CAN YOU TAKE A MICRODOSE?
As a general rule, you should not take microdoses of psychedelics more than every 3 days. This may feel strange to some inexperienced people who are used to taking supplements on a daily basis, but it makes sense to follow this advice.
Importantly, the dose remains below the noticeable hallucination effects. But the most important thing is to listen to your body.
WHAT AMOUNT OF MICRODOSAGE DO I TAKE?
The recommendation is between 0.5 and 1.5 grams.
NUTRITIONAL VALUE
Magic Truffles contain nutrients that serve for the construction, energy supply and regulation of the human organism and are necessary for the maintenance, functioning and development of that organism, and thus can be consumed for those substances.
Magic truffles contain the following nutritional values: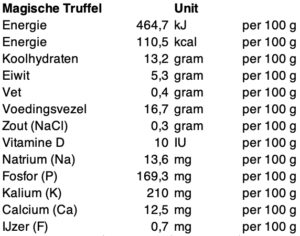 NOTE: Magic Truffles naturally also contain the substances Psilocybin and Psilocin. Psilocybin and Psilocin are hallucinogens. Hallucinogens are substances with a mind-altering effect that can induce hallucinations. When consuming Magic Truffles, take the effect of these substances seriously into account and always keep Magic Truffles out of the reach of children because of these substances! Store Magic Truffles in a dark, dry and cool place between 2 and 4 ℃.